8th Edition Nov 2022
An Interview with Naz Chaudary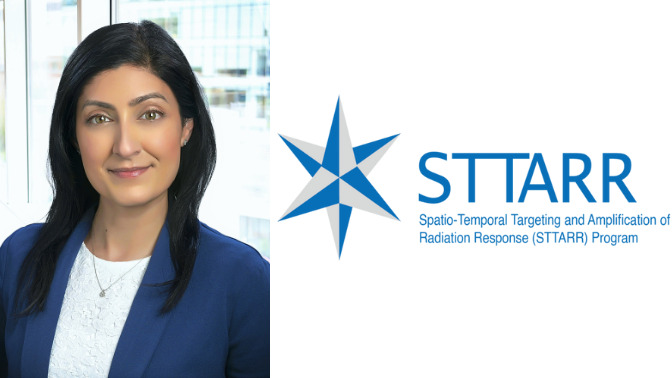 An interview with Dr. Naz Chaudary, Manager of the STTARR (Spatio-Temporal Targeting and Amplification of Radiation Response) core facility at UHN:
How does your professional experience support your current role?
As a postdoctoral research fellow at Princess Margaret Hospital, I have been an avid user of STTARR imaging modalities for over 10 years—from PET-CT to ultrasound and image-guided radiotherapy. My professional experiences with preclinical radiation biology, imaging and surgical tumour model development have highlighted the vital services that STTARR has to offer.
What aspect of your role do you enjoy the most?
Through my role, I ensure that STTARR continues to support preclinical and translational applications—enabling projects to advance towards clinical impact. The research projects that we work on often involve the evaluation of new agents for cancer detection and therapy. These studies are intended to set the stage for developing novel diagnostic and therapeutic agents. The most rewarding aspect of my work is being able to share, learn and expand my knowledge and experiences with the team and the scientific community.
What do you see as some of the big opportunities and goals ahead?
The goal for STTARR is to stay one step ahead of preclinical imaging and histopathology platforms. This fall, STTARR installed a state-of-the-art Small Animal Radiation Therapy (SmART+) system, allowing researchers to precisely acquire and deliver targeted radiation under CT image guidance. Also new to STTARR is the LabLogic® Logi-CHROME ONE, an integrated all-in-one radio-HPLC system specifically developed for PET/SPECT quality control. It provides a footprint and simple-to-use solution for radiochemical purity testing.
Among other recent technological advances at STTARR, the CT high-resolution clinical scanner will allow the development of intraoperative imaging capabilities and the testing of new medical devices in large animals. Being in close proximity to two fully equipped operating rooms and our clinical 1.5T MRI, the new CT scanner will complement and provide additional infrastructure to support translational research throughout UHN and beyond.
For more information on STTARR, please visit: www.sttarr.com