7th Edition May 2022
UHN Transformatics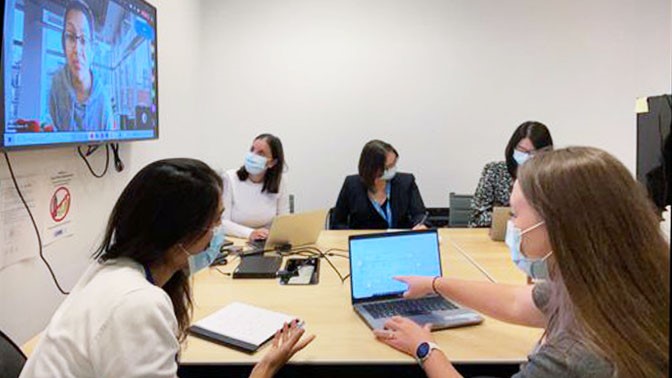 "We partner with multidisciplinary stakeholders—clinical, research, industry—to bring forward solutions to meet clinical and research needs," says Kelly Lane, the Director of the Transformatics team . "We provide the expertise needed to leverage health informatics, technology innovation, and project management expertise to support clinical transformation".
The Transformatics program offers the following services to the UHN research community, clinical departments and external organizations:
1. Project management
2. Business and process analysis
3. Business cases and project proposals
4. Productization and derisking
5. Clinical engineering and human factors
The program's goal is to improve the provider and patient experience by supporting the delivery of high quality, efficient care. "The projects that we enjoy the most are the ones with no existing solution—those that require collaborative work with clinical and research teams to design and implement," says Kelly Lane.
Over the last few years, the team has been involved in designing, building, implementing and supporting a number of projects within the fields of surgery, endoscopy, cancer care and orthopedics. Examples of these projects are described below:
1. Sprott Department of Surgery
The team's partnerhip with the Sprott Department of Surgery aims to build capacity and increase operational efficiencies. Projects include the development and implementation of technologies to centralize and visualize surgical waitlists and patient flows, as well as lean workflow analysis to introduce operating room efficiencies.
Read more in a feature in the last Sprott Surgery Magazine.
2. Cancer Digital Intelligence (CDI)
Transformatics is providing project management and operations expertise for CDI projects, social media communications and community engagement. These services are enabling CDI to overcome technology challenges and build and nurture UHN-wide inter-disciplinary collaboarations.
3. Provincial RAC-LBP
Technical operations support is being provided by Transformatics to the provincial Rapid Access Clinic for Low Back Pain. The team successfully onboarded all 14 regions across Ontario onto a central, shared and cloud-based case management system with over 250 users. The program has received over 30,000 referrals since it was launched in 2018 and has onboarded over 7,000 primary care providers who can refer to the program.
The Transformatics team comprises a clinical engineer with human factor expertise, a nurse, a certified Canadian Health Information Management (CHIM) professional and several health informatics professionals. For more information and to collaborate with the team, please contact Kelly Lane at kelly.lane@uhn.ca