7th Edition May 2022
Nuclear Magnetic Resonance (NMR)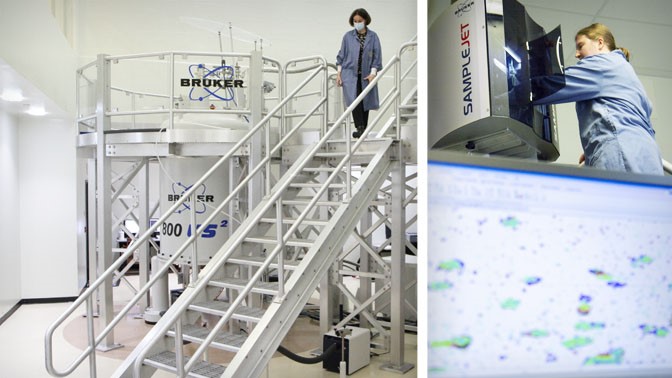 (L) Dr. Genevieve Seabrook, Staff Scientist, and NMR Research & Core Facility Manager; (R) Fenneke KleinJan, Postdoctoral Fellow, loading a sample at the facility. (Photo: UHN's StRIDe team)
The Nuclear Magnetic Resonance (NMR) Core Facility within the Princess Margaret Cancer Research Tower (PMCRT) is equipped with state-of-the-art solution-state NMR spectrometers. This equipment enables the characterization of biomolecular structures, protein interactions, protein dynamics and protein structure-function relationships. It can also be used to study metabolites, and conduct high-throughput fragment-based drug screening.
The NMR infrastructure is supported by highly qualified personnel and welcomes internal and external clients. This core facility provides a collaborative environment for researchers interested in structural, cell and cancer biology to perform structural studies of their target proteins.
The facility was key to enabling a recent collaboration between Dr. M. Ikura (PM Senior Scientist) and Dr. Chris Marshall (PM Staff Scientist) to study large molecular complexes involving the GTPase KRas. This protein acts as a molecular switch when in a complex with effectors on nanodiscs (which are used to mimic cellular membranes). These studies furthered our understanding of molecular switches and cell-signaling pathways and enabled the team to design lead-like molecules with promising therapeutic properties.
"If your project involves elucidation of protein complexes, mapping protein-protein or protein-ligand interactions, identifying a lead for drug discovery, or studying protein post-translational modifications, this facility is here for you," says Dr. Geneviève Seabrook, Research Staff Scientist and NMR Core Facility Manager.
Equipped with three Bruker NMR spectrometers, the core provides a suite of services. See below for which services are provided and more info about the facility:
Services provided
Complementary project consultation
Help with experimental design
Full support service
Data acquisition; Data analysis and interpretation
NMR training
Facility info
Access provided to internal and external users
Collaboration opportunities are available
Operating hours are 24/7
While discussing the facility's commitment to optimizing operations, Dr. Seabrook adds, "Our services and facilities are constantly being renewed. Currently, we are upgrading our 600MHz NMR spectrometers for compound and fragment screening. We are also working towards obtaining a library of small molecule fragments for throughput screening."
For more information on NMR services and collaborations, please contact Dr. Geneviève Seabrook at Genevieve.Seabrook@uhnresearch.ca.