7th Edition May 2022
The Challenging Environmental Assessment Laboratory (CEAL)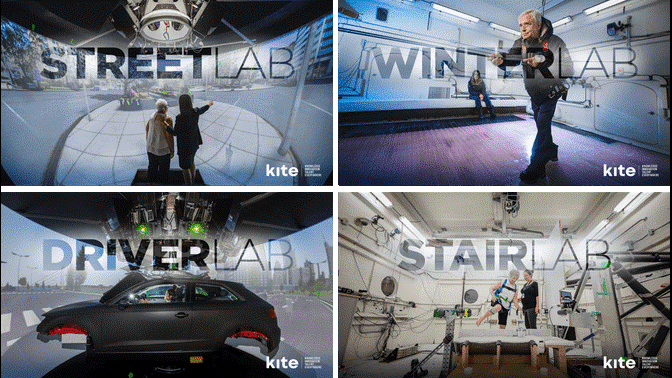 Researchers at The KITE Research Institute, which is the home to the Challenging Environmental Assessment Laboratory (CEAL), are dedicated to improving the lives of people living with the debilitating effects of disability, illness and aging. In the words of Dr. Jennifer Campos, CEAL Chief Scientist, "Simulation labs allow us to study human abilities and performance in real-life settings. This ultimately enables us to develop and safely test innovative products and technologies to help these individuals to live independently and thrive."
CEAL is home to four state-of-the-art simulation laboratories: StreetLab, DriverLab, StairLab and WinterLab. They are fertile ground for the testing of pharmaceuticals, assistive devices, smart clothing, footwear, and other products and technologies.
StreetLab produces a 240-degree projection of a busy street through the eyes of a pedestrian. "Persons with hearing loss are three times more likely to experience a fall. Our hypothesis is that as individuals age, they have less cognitive reserve to do multiple things simultaneously," says Dr. Campos. "Within controlled and repeatable virtual reality environments such as this, one may analyze when and how daily tasks such as walking can trigger a dangerous fall."
DriverLab is the most advanced simulator in Canada and is among the most sophisticated driving simulators globally. Moreover, the lab enables researchers to study the impact of health and medications on driving performance as means by which to increase driver safety in healthy older adults and those living with injury or illness.
"DriverLab provides an entirely unique way to test the real-world effects of drowsiness, medications and sensory impairment on drivers without endangering our study participants," says Dr. Campos.
WinterLab enables researchers to optimize the performance of winter footwear and mobility aids (e.g. mobility scooters and crutches) in icy and snow-covered conditions—a focus that is particularly relevant to Canadians.
Research conducted in StairLab is being used to test stair-related injury prevention strategies. Outcomes of this research have led to the adoption of evidence-based clinical recommendations, and better building codes and safety standards.
For more information on CEAL, please visit: https://kite-uhn.com/tours/virtual/ceal