STTARR- A Multi- Faceted Research Partner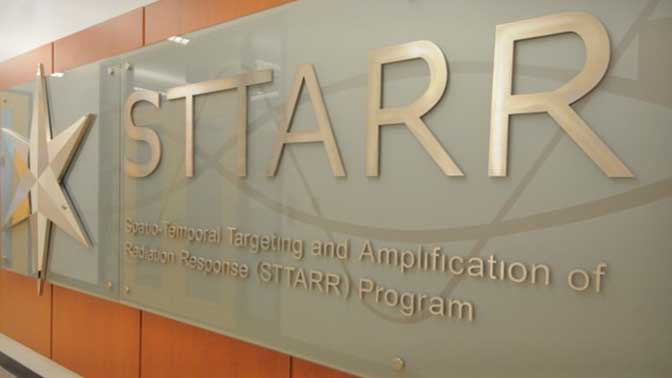 The STTARR (Spatio-Temporal Targeting and Amplification of Radiation Response Program) Innovation Centre is a comprehensive core facility offering full service from study design to its execution to its analysis. STTARR offers state-of-the-art preclinical imaging resources and scientific support to advance projects for UHN researchers. It utilizes a detailed and efficient one-stop-shopping process whereby researchers can drop off their samples, i.e. tissues or live animals, and obtain robust results easily and effectively. In addition to imaging, STTARR provides access to a fully equipped histopathology laboratory and advanced image visualization and analysis services, including image co-registration, segmentation, quantification of tracer uptake, and machine learning/AI-based image classification.
Numerous projects are already being planned for 2021. The majority will focus on the radiolabeling of nanoparticles and small molecules in order to evaluate their bio-distribution and efficacy in different models of disease. STTARR is also about to run its first studies to determine the efficacy of Targeted Alpha-Particle Therapies (TAT). Expansion of the portfolio of radionuclides is planned so more users can avail themselves of the PET-MR and the SPECT-CT-PET systems and expand the scope of their investigations.
Furthermore, a clinical CT scanner will be installed this year. In addition to its high-resolution features, the new equipment will offer advanced spectral imaging and fluoroscopy capabilities for imaging large animals. Among other applications, the new equipment will allow the further development of intraoperative imaging capabilities and the testing of new medical devices. Located close to two fully equipped animal operating rooms and to the clinical 1.5 T MRI, the new CT scanner will complement and provide additional infrastructure to support translational research.
STTARR has undertaken 750+ projects since its inception in 2008. This innovation centre has benefitted researchers from the fields of oncology, neurology, immunology, cardiology, transplantation, orthopedics, regenerative medicine, and even aided clients in non-medical applications such as archaeology, paleontology and the fine arts.